BotNinja Viral Contests
Messenger Referrals: Word of Mouth To Fund Marketing
Viral contests enable your Messenger chatbot to host giveaways and referral contests for your audience. Organically drive subscribers to your business with leaderboards & ethical bribes!
When you are in growth mode and have successfully delivered value to customers, chances are they know 2-3 people in their friends' circle who would be benefited from what your products/services. Messenger provides the perfect interface for the referral mechanism because it is the largest social network in the world with over 1.3 billion users. BotNinja chatbots, with the help of this plugin, can be used to generate, track and incentivize referrals.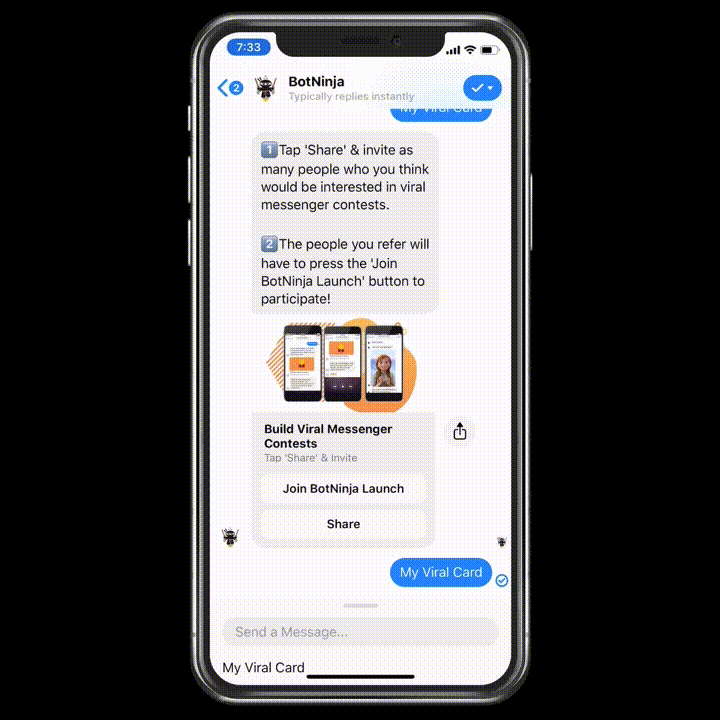 Why Should You Use This?
Plug & Play setup to build your subscriber base.
Organic Growth whereas acquiring each subscriber via advertisement can cost $2-$7
Referrals can be sent Sponsored Messages.
"Gamification" of the Messenger marekting process with automated leaderboards that you can send to customers.
How To Use This?
If you have subscribed to the PRO option, you will see the Viral Contest option available from the Integrations section. Press Activate To enable the contest on your BotNinja chatbot.
After having done so, you will need to enter:
The date till which you are running the contest.
The number of winners you want.
The Sequence you want to subscribe users to once they have entered the contest.
Consequently, two Private flows will be created by default – Viral Contest & Viral Contest After Ref Flow.
Viral contest flow is what an existing subscriber will see. In the viral contest flow, you can setup a unique card for your subscribers to share. It will have an unique button via which our chatbot will keep track of the referrals.
Finally, to keep track of the leaderboard, you can head over to the Integrations section, click Manage and the leaderboard will populate with details of the top participants, as well as the number of referrals.